Empires of History Gaming Network
Info on Thermopylae Online
Thermopylae Online is now in development here at the Guild of Blades Publishing Group and is planned as the very first Network Game for the Empires of History Gaming Network. What does that mean? As a Network Game, unlike 1483, only players who have upgraded to an Enhanced Membership will have access to Thermopylae and future Network Games planned for.
Thermopylae Online is an online computer game adaptation of the Guild of Blades board game, The Battle of Thermopylae. It is a two player game where both players start by bidding to see which player will play the Greek forces. The player with the highest bid will play the Greeks and the other player the Persians. Both players begin with a set force, though the Persian army is about four times larger than the Greeks. Like history, it is a battle that can not be won by the Greeks. Even with the legendary Spartan 300 to help hold the passes. Instead, the Greek player can win the game if they are able to kill a number of Persian units equal to the number they bid to see who would play the greek. If they kill that many, they win, if they fail to kill that many, the Persian player will win.
Unlike 1483, Thermopylae will not have set update periods. Rather one player will submit a turn, which will get updated almost right away, after which time the other player may then download the results and then play their turn at any time. So games will progress at the speeds for which the two players can submit turns.
Battle of Thermopylae Game Map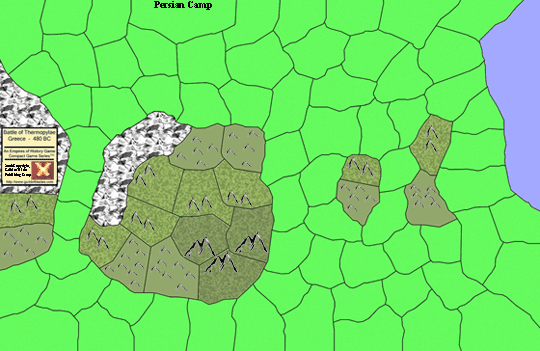 What else is planned for the Empires of History Gaming Network?
1) Hadrian's Wall Online. - A Network Game
2) Pantheons Online. - A Free Game
4) 1483 Online: Global Edition - A Free Game
And many more games....