1430 AD: Europe 1483 Variant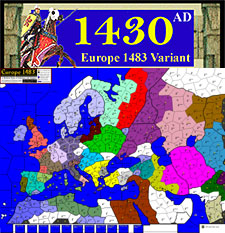 1430 AD is a 29 player variant using the 1483 Online European map. Set in the year 1430 AD, just 53 years before 1483, but much on the map is changed. Russia and Spain are not yet united, the Golden Horde and Union of Kalmar (Denmark + Sweden) are the two strongest nations, the Hundred Years War between England, France and Burgundy still rages. The Ottomans have a fragile hold in Europe, with Constantinople still holding strong against their advances. Dehli has yet to grow into the dominant power in India. Introducing new core rules where some territories can be core to more than one nation. Click Here to check it out.
A FREE game variant, open to all.